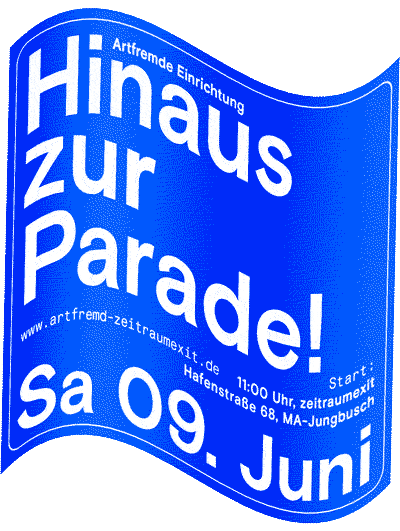 A sort of Parade
Down with monarchy
Long live the culture of the many!
The Artfremde Einrichtung says good-bye and invites all participants, friends and cititzens of the city to gather and carry the art out into the open street in a glorious parade. At our final destination on the banks of the River Neckar we will will see of the old sovereign and possibly usher in a new reign of cultural politics.
Out of the cultural institutions, museums, theaters and into the Open! For cultural access and the art by all and for all.
Sa 09. June 2018
Start: 11:00 h courtyard of zeitraumexit, Hafenstraße 68
Ziel: afternoon at Neckarwiese near Alter Messplatz
Everyone can participate – with or without claim, costume or musical instrument.
Come out for the parade!